Paul on Spicks & Specks
3 CITIES TOUR SOLD OUT
Paul Dempsey commences his '3 Cities' Tour tonight at Sydney's Factory Theatre - all shows are sold out. Paul will be accompanied by special guest, Alexander Gow (Oh Mercy).
Pauls 3 Cities Tour sells fast
Paul Dempsey's Factory Theatre show, Sydney has sold out - all shows on his '3 Cities Tour' are now sold out with limited tickets only remaining for his The Triffid ,Brisbane show on Sat Nov 15th - but hurry! Tickets from HERE
ALEXANDER GOW (OH MERCY) JOINS PAUL ON HIS '3 CITIES' TOUR
We're delighted to announce that Mr. Alexander Gow (Oh Mercy), will join Paul on his '3 Cities' solo tour throughout November as a very special guest. Alexander has spent the last year traipsing the country side of America playing shows and writing songs. Having recently returned home with a suitcase full of new songs, timing couldn't be better to have him on the road with Paul. Tickets on sale NOW!
PAUL DEMPSEY SOLO '3 CITIES' TOUR 
With special guest Alexander Gow (Oh Mercy) 
Friday 7th November  Factory Theatre Sydney, NSW SOLD OUT
Friday 15th November The Triffid Brisbane, QLD
Friday 21st November  The Corner  Melbourne, VIC  SOLD OUT
Saturday 22nd November   The Corner  Melbourne, VIC SOLD OUT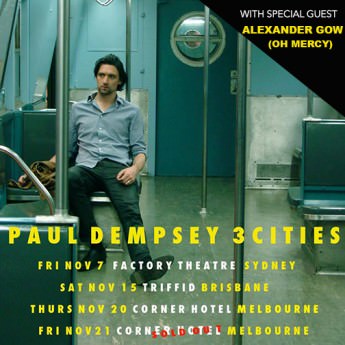 TICKETS ON SALE NOW FOR PAUL DEMPSEY 3 CITIES SOLO SHOWS
We're most excited to announce that Paul Dempsey will play 3 solo shows in 3 cities this November.
Taking in Brisbane, Sydney & Melbourne, these shows will see Paul in his element, with just an acoustic guitar, a whole bunch of Paul Dempsey solo songs, SFK material and an exceptional knack for picking a great cover..
TICKETS ARE ON SALE NOW - CLICK ON THE LINK BELOW OF THE SHOW YOU WOULD LIKE TO ATTEND:

Dates are as follows;

Friday November 7th : Factory Theatre, SYDNEY   BUY TIX HERE

Saturday November 15th : The Triffid , BRISBANE  * BUY TIX HERE


Friday November 21st : The Corner Hotel , MELBOURNE  SOLD OUT!
2nd show announced;
Thursday November 20th: The Corner Hotel MELBOURNE BUY TIX HERE

Support act to be announced soon.
*The Triffid is Brisbane's brand new venue owned by Powderfinger's John Collins - The Triffid will open in early November. Read about it HERE

Click Here to view previous news posts